Ivanhoe Runners Membership Details
---
MEMBERSHIP APPLICATION FORM AND CLUB HANDBOOK
Welfare and Safeguarding Policy
Membership Form - Electronic
Membership Form - Print Version
Data Protection - Ivanhoe Runners have a data privacy policy in line with EU regulations which came into force on 25th May 2018 - General Data Protection Regulations (GDPR). Ivanhoe Runners Privacy Notice can be found here. The club also has a process in place for members to request for the information being held on them - a Subject Access Request. Please contact the Club Secretary as the relevant club official.
MEMBERSHIP COST
Membership for 2019 costs £37.50 for the year, although for students this is reduced to £25. Subscriptions are due on 1st March each year, but if renewing and paid before 31st March a £5 discount reduces it to £32.50. Membership will be deemed lapsed if a member has not renewed by 1st June.
If you plan to race you will need to buy a Club vest at £20 - Please speak to either of your Club Captians to purchase a vest.
For people joining the Club part-way through a year, from 1st January the subscription fees reduce to £22.50. This is to coincide with the distribution of club benefits.
Membership fees can be sent electronically to: Sort Code: 40-08-31. Account Number 81422278 . Ref: Ivanhoe Subs
Completed forms should be handed to a member of the Committee.
HISTORY OF THE CLUB
Founded in 1985, we currently have a membership of over 100, with ages and abilities across a broad spectrum. At the 'sharp end' we have several runners capable of sustained sub 6-minute mile pace, and some who run much more leisurely. Anyone competing in local events is guaranteed to see several of our trademark sky-blue vests taking part. We compete in a variety of events ranging from road running, fell racing, cross-country and even occasionally on the track, and we now have a number of members who do triathlons, more than half being ladies. We compete in several leagues and hold an internal grand prix series (see Calendar tab for more details). Many of our members are also keen "parkrunners" running locally at Conkers and further afield.
However, the focus of the club is not solely on running and we also enjoy a wide variety of social events during the year with quizzes, bowling, BBQs, triathlons, trips to races (and breweries!), and our annual Awards Night featuring in our calendar.
We organise the very successful Aldi Ashby 20 Road Race, held every year, five weeks before the London Marathon. In 2013 the Ashby 20 was voted the 5th best "other distance" race in the country by readers of Runner's World.
If anyone is interested in joining Ivanhoe Runners then please feel free to ask any of our club members you see at races, or come down to Hood Park for 7.15pm on any Wednesday or Friday and have a run with us.
MEMBERSHIP BENEFITS
Joining Ivanhoe Runners means that a runner becomes UKA registered, which give several benefits including insurance cover for racing and training, and reduced entry fees to races.
Ivanhoe Runners members specifically get great value from being Club members. Through a combination of membership fees and monies generated by the Ashby 20, members get free use of the showers at Hood Park Leisure Centre, subsidised running kit, free entry into the LRRL Winter League races and the Derby Runner Cross-Country League races, a subsidised prestigious awards night where we recognise our achievements and present many trophies, discount in certain local running shops, and other subsidised social events. Membership also gives you access to UKA qualified coaches and structured coaching sessions.
WHERE AND WHEN WE TRAIN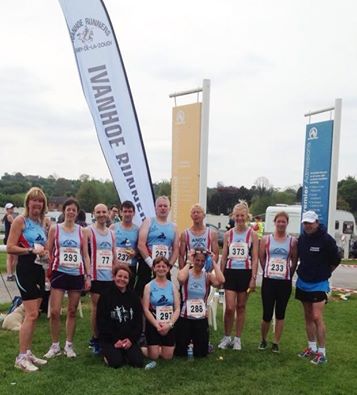 On Wednesday evenings throughout the winter we meet at our usual training venue, Hood Park Leisure Centre, Ashby. Meet at 7pm to run at 7:15pm. The options will be a coached speed/interval session, or if you prefer, a group run on road. In the summer, we either meet at Hood Park or other venues including Hicks Lodge, Sence Valley and the track at Tamworth.
On Friday evenings we meet as usual at Hood Park Leisure Centre at 7pm, normally for a "social" run.
In winter we run around the local streets due to the dark, in summer, routes can be a mixture of road and cross-country. Many members also organise an informal Sunday morning run on the weekends they are not racing. We cater for a wide range of abilities, and club nights often consist of many different paced groups, ranging from over 10-minute milers to sub 6-minute mile runners. We will run routes that can have cut off points from 3 to 10 miles during the winter and various different distances during the summer. Beginners are more than welcome, although a good level of fitness is required, together with the ability to run continuously for at least 30 minutes. If this is not possible at the present time we can give advice to help you on your way to achieving this.
The club offers free coaching to members, by way of a weekly speed/hill session (currently Wednesday evening). We recommend that to improve your running you compete in races, however if you only wish to run for fun then that too is great.
We run to a standards scheme and a copy of the standards table is available for your perusal, all members should be able to achieve some standards at some distances during their time with Ivanhoe Runners, and these are recognised at the annual awards ceremony.
Page last updated by Emily Partridge on 01 September 2019 at 11:16