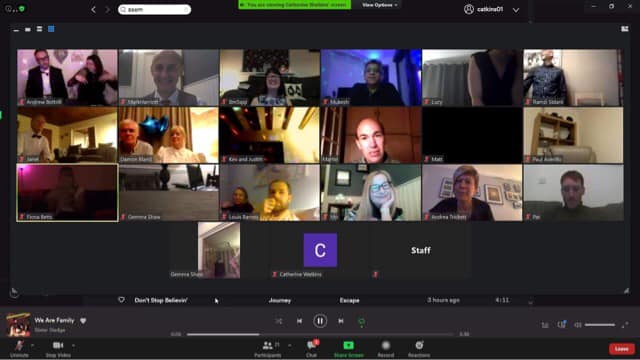 Over the weekend, the Ivanhoe Runners came together for their annual Celebration Evening. However, this year it was via Zoom.
Gemma Shaw did an excellent job of organising the virtual evening, with Chairman Nick Rowles and -club appointed Zoom expert - Catherine Watkins hosting between them. Club captains Victoria Smith and Mark Parker also assisted.
A special thank you to the Lyric Rooms in Ashby. Jayne very kindly provided members with a delicious three course take away meal. Making the evening that extra bit special.
Although there haven't been as many running events during the year, the Committee still provided the club with plenty of running opportunities (all following the Covid guidelines of the time). This meant Ivanhoe Runners still had plenty to celebrate.
Kicking off the awards for the night, were the Derby Runner Cross Country winners: Fiona Betts; Carolyn Osborne; Ramzi Sidani and Karl Wideman. Well done to all of you.
The Time Standard Awards scheme, where runners are recognised for their improvement in a variety of five distances or a distinction for nine distances, ranging from Tungsten to Rhodium, went virtual this year. Standards were awarded to 21 runners; (Tungsten) Kim Harris; Jayne Bradshaw; Grania Towle; (Pewter) Jessica Taylor Southwart; Paul Averillo; (Copper) Jane Bland; Jenny Hope; (Bronze) Simon Hill; Bob White; (Bronze Distinction) Andrew Stanley; Andrea Trickett; (Silver) Fiona Betts; Sandra Lawless; Catherine Watkins; Matt Pleass; (Silver Distinction) Laura Graves; (Gold) Helen Finn; Lucy Mcdermott; (Diamond) Sally Jeyes; Andy Jeyes; Mark Harriot.
Best Newcomer was presented to Charli Gamble and Andy Cole. Both for their positive attitude towards their running over the past year and enthusiasm during the Lockdown Challenges.
Team Player was awarded to Helen Brandon and Mark Harriot. Thoroughly deserved for their contributions to the club over the year.
Most improved went to Sandra Lawless, Catharine Watkins and Andrew Stanley. These three have had a great year and we're looking forward to seeing even more 'improvement' once races open up again and they've got the atmosphere driving them even more.
The Brian Gough award was received by Sarah Malone and Martin Yeomans. When out on a Covid safe social run earlier on in the year, Sarah and Martin came across a man who needed emergency CPR. Having received training from Heartwize the pair acted selflessly to deliver CPR and stayed until the Emergency Services arrived. This award is thoroughly deserved.
The Margaret Hibell Endeavour Award went to Simon Hill and Andrea Trickett. During the year, Simon ran up Pistern Hill 19 times. This was equivalent to 4400ft of climbing; the same height as Ben Nevis. Coincidently, it was for The Ben Nevis Challenge. Andrea ran 10X 4 mile loop; each time with a different running buddy (all Covid secure). Andrea also broke through the 3:45 barrier for a marathon; something she has been trying to do for years. Well done, to both. A much deserved award.
The Chairman Award this year was awarded to Gemma Shaw. Gemma has worked unbelievably hard throughout Lockdown to provide Ivanhoe Runners members with running challenges each week. These challenges have kept members motivated throughout the year and kept spirits high. The involvement in these challenges have brought a close group of runners, even closer. Well done, Gemma!
The last award of the evening was the Club Member of the Year award, nominated and voted for by the members. The winner this year was… The Committee! This is for their continued support, hard work and dedication to the club and its members through such a difficult time. It could not have to a more deserving bunch of people. We're excited to see what the Committee has in store for its members over the next 12 months.

An Ivanhoe Celebration Evening is not complete without dancing the night away, and there was still plenty of this over Zoom. It was a great night had by all. Just showing, Covid can't keep Ivanhoe Runners down!