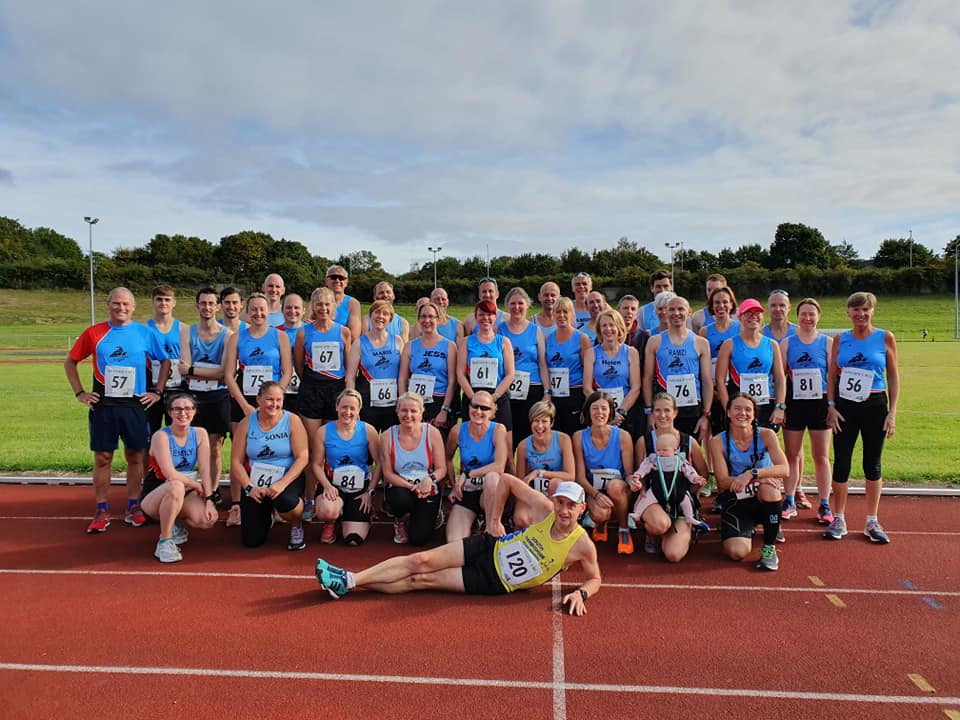 Tamworth 5 was the final race of the season for the BDSL, and 40 runners represented the club, on a relatively fast route, starting and finishing on the track.
Tom Potter was the first Ivanhoe runner to cross the line in a swift 29:42, 10 seconds ahead of Ramzi Sidani running in at 29:52. Matt Pleass finished 3rd for Ivanhoe in a time of 30:09.
Shaun Coulton was next in over the finish line clocking 30:38, ahead of Mark Parker in 31:35. and Alistair Burgwin in 32:04. Abigail Halcarz ran a speedy 32:15 to finish first for the Ivanhoe Ladies.
Simon Terry was next over the line in 34:14 followed by a steady stream of runners in the Ivanhoe blue vest: Mark Bradford (34:26), Patrick Horn (34:43), Andrew Stanley (35:30), Andrew Bottrill (35:35). Lucy McDermott was second Ivanhoe female in 35:46, ahead of Karen Bell making a welcome return in 35:59. Emily Partridge clocked 37:16 in another good run.
Chris Osbourne finished 37:38 a second ahead of Damon Bland, in 37:39. Julie Taylor clocked a new personal best time of 37:49, with Fiona Betts close behind in 38:00.
Victoria Smith and Andrea Trickett finished 39:15 and 39:16 respectively, with Martin Yeomans and Andy Cole both crossing the line in times of 39:31.
Bob White finished the race in 41:16, then Helen Finn (41:54), Amanda Bradbury (42:20) and Carolyn Osbourne (42:53). Peter Graves finished in 43:43 ahead of Rachel Thompson in 43:53.
Paul Averillo, making vast improvements this season finished with a new PB on 44:12. Laura Graves finished in 44:39, with Gemma Shaw 44:52 to clock sub 45's.
Lindsay Tilbury, (46:02), Christine Ridley, (46:30) and Jane Bland (48:26) all came in under 50 minutes, followed by Jessica Southwart clocking 50:53, Sonia Hoult (53:33), Clare Hemmings (53:39), Marie Miller (54:52), and Julie Henfrey completing the team in 1:05:27.
At the close of the season with BDSL, both men's and Ladies teams finished second in the league behind our neighbours, South Derbyshire. Individually there were some great results, notably Lucy McDermott, who won the V35 Category, Emily Partridge 3rd senior Lady, Fiona Betts 3rd VL45, and Helen Finn winning her category VL55. Out of the men, youngster Tom Potter came 3rd under 25, Ramzi Sidani 2nd VM40, and Shaun Coulton won his MV50 category. Martin Yeomans also ran all 8 races, concluding another successful season.
On the same day as Tamworth, 5 Ivanhoe runners opted to take part in the Calke Abbey 10k. A scenic, local race Richard Martin was first in the sky blue vest, in 40:12. Colin Hope finished in 47:32, ahead of wife Jenny in 1:00:39. Jez Millington-Pipe clocked 1:02:09, and Andrea Allen finished 1:23:23.
Elsewhere, Lucy Alsopp supported a friend in the Worcester 10k, crossing the line in 57:34.