Grace Dieu Cross Country, Wildest Peak Trail, Gloucester Marathon & Dave Denton Series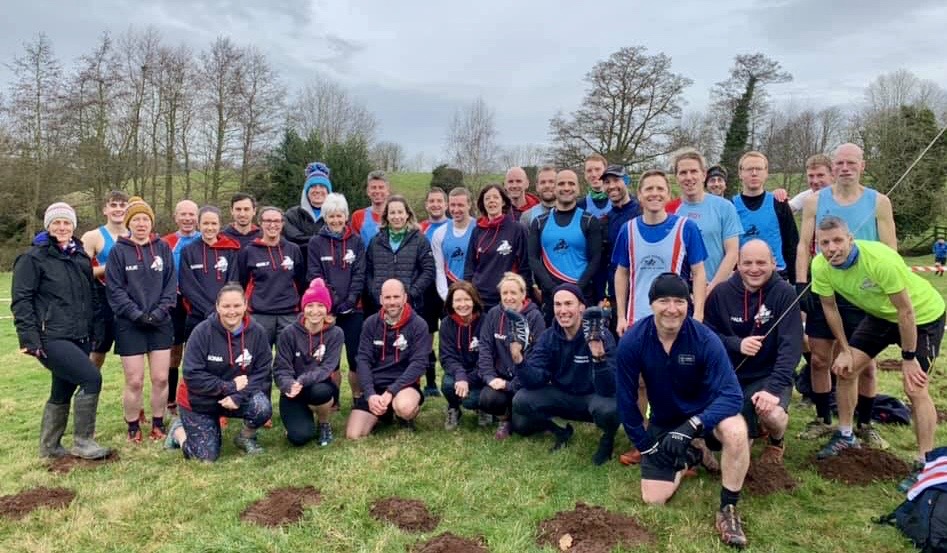 The fourth Derby Cross Country league race of the season took place at Grace Dieu. An old venue that surprised us with a new course of approximately 5 miles over two laps that was undulating with some steep sections. Areas of the ground were soft and uneven which led through the woods with two stream crossings.
The men's team started the day at the top of League two and good performances were needed to maintain this position.
The team did not disappoint and there were some great runs which saw Tom Potter first home for the men in a superb 10th place, hot on his heels was Ramzi Sidani in 14th.
Not too far behind we had Mark Parker, Alan Ginn and Karl Wideman in 24th, 28th and 31st place respectively. Battling to the line we had Matt Pleass in 42nd with Paul Codd immediately behind in 43rd place. Nick Rowles in 56th place completed the men's scoring team.
Exceptional team performances and in the top 75 were Gavin Moore, Matt Brocklehurst, Gerard Eivors and Louis Barnes. Andrew Stanley came in 101st, Pav Mazur in 108th, Richard Hope in 138th closely followed by Kev Laz in 140th. Colin Hope had a great run in 157th place. Mark Bradford was 170th, Andy Cole 174th, Mark Hoult in 177th and Patrick Horn in 188th.
Chris Finney came next in 191st followed by Pedro Lima in 200th with Chris Osborne in 215th. Martin Yeoman's men's cross country captain came in 227th place. Richard Trevelyan was 242nd and Paul Averillo finished in 255th.
The first lady home for Ivanhoe was Emily Wideman in 27th position. Sarah Terry finished well in 32nd place. Julie Taylor was once again third lady home for the team crossing the line in 38th position with Victoria Smith finishing strongly to take 46th.
Outstanding runs by the remaining ladies with Emily Partridge taking 74th place, Laura Graves 94th, Lisa Hall 111th closely followed by Amanda Bradbury in 115th. Wendy May ran well in her debut cross country race and came in 117th. Laura Hope finished in 118th, Christine Ridley in 125th, and Jenny Hope in 137th. Sonia Hoult finished in 170th position and Grania Towle in 173rd completed the ladies team.
The Wildest Peak Trail Run in its fourth year was held at the Longshaw Estate in the Peak District, 16 miles of top quality running trails with stunning views was completed by Kev Laz and Mark Hoult in 2 hrs 58 mins.
Ian Kirk completed his 107th marathon at Gloucester. The course was relatively flat and ran on mainly closed roads. Ian who has been suffering with a hamstring strain was happy to complete the distance in 3hrs 46mins.
The Dave Denton series, a 1 mile and 5k road race event at Alvaston Cricket Club, one always popular with Ivanhoe runners saw 11 members competing this week.
In the mile race Ramzi Sidani came 3rd in 5.24. Andrew Stanley finished in 6.20 closely followed by James Cox in 6.35. Andy Cole's time was 7.01, Julie Taylor 7.41, Andrea Trickett 7.51, Adrienne Collard 8.01, Laura Graves 8.22, Mindy Ashton 8.44 and Jessica Taylor-Southwart finished in 8.52.
In the 5k race Ramzi Sidani finished in 18.01, James Cox 19.45 just ahead of Andrew Stanley who finished in 19.49. Andy Cole crossed the line in 21.48. Julie Taylor ran a new pb time of 22.22. Adrienne Collard finished in 23.05, Mark Bradford 23.11 and Andrea Trickett 23.12. Laura Graves ran well in 25.35. Mindy Ashton finished in 25.46 and Jessica Taylor-Southwart in 29.10.