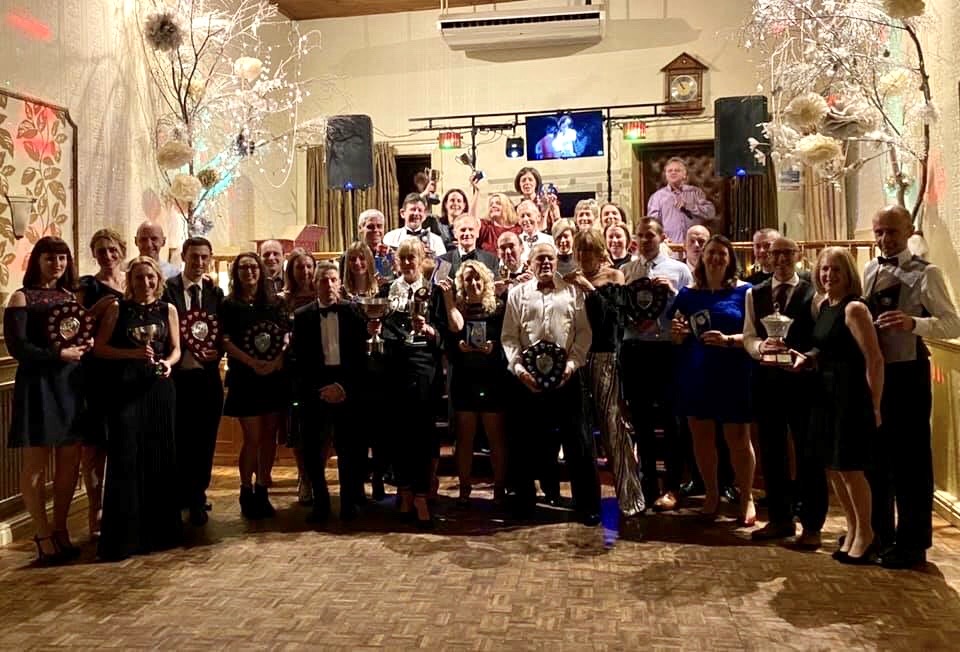 Ivanhoe Runners gathered once again at the Lyric Rooms in Ashby for their Annual Celebration evening to toast the performances of its members, and there were plenty.
The evening organised by Sam Toon, Gemma Shaw and Heather Swan was hosted by Chairman Nick Rowles and assisted by club captains Victoria Smith and Mark Parker.
With a table full of prizes to award the evening got off to a flying start with the presentation of the Ivanhoe 20 Shields to Ramzi Sidani and Emily Wideman.
The Adrian Smith Handicap trophy was this year won by Jane Bland who has had an incredible year of running and also scooped the most improved female prize.
Most improved male award went to our Ashby 20 Race Director Richard Bebbington.
Awards for 100% attendance at the Derby Runner Cross Country league were presented to Grania Towle, Ramzi Sidani, Karl Wideman, Mark Bradford and Martin Yeomans for their continued support of the club. Martin Yeomans was also rewarded for his 100% attendance at the Burton and District Summer League races, a fantastic achievement by all.
Other performances awarded for the Burton and District Summer League were ladies team runner up prize to Abby Halcarz, Emily Partridge, Julie Taylor, Lucy McDermott, Fiona Betts, Andrea Trickett and Sophie Cooper. Men's team runner up prize went to Ramzi Sidani, Shaun Coulton, Tom Potter, Mark Parker, Alistair Burgwin, Nick Rowles, Louis Barnes and Karl Wideman.
Individual awards in this league were won by Lucy McDermott 1st VL35, Helen Finn 1st VL55, Fiona Betts 3rd VL45, Emily Partridge 3rd senior lady, Shaun Coulton 1st M50, Ramzi Sidani 2nd M40 and Tom Potter 3rd U25.
The winter Leicester Road Runners League Vet 70 was won by club stalwart Andy Jeyes.
The time standard awards scheme where runners are recognised for their improvement in a variety of five distances or a distinction for nine distances, ranging from Tungsten to Rhodium were awarded to 23 runners. Sophie Turner achieved tungsten. Pewter was awarded to Paul Averillo, Pedro Lima, Jane Bland, Lindsey Tilbury, Jessica Taylor-Southwart and Rachel Thompson. Andy Cole, Colin Hope, Roger Western, Louis Barnes and Nancy Bennion achieved bronze. Matthew Joyce, Bob White, Peter Mouncer, Damon Bland, Laura Graves, Karl Wideman and Emily Wideman all achieved their silver standard. Alastair Burgwin gained silver distinction whilst Sally Jeyes, Shaun Coulton and John Finn all earned their gold standard.
The Club's Grand Prix competition of 29 races in total, rewards the first six male and female athletes and this year the overall female winner was Emily Partridge with Laura Graves the runner up, followed by Victoria Smith, Andrea Trickett, Nancy Bennion and Julie Taylor. The winner of the men's league was Mark Parker with Louis Barnes the runner up followed by Andrew Stanley, Damon Bland, Mukesh Deva and Ramzi Sidani.
The Team Player awards went to Emily Partridge and Louis Barnes both well-deserved for their contribution to the Club over the last year.
The Best Newcomer awards were presented to Abby Halcarz and Tom Potter who have both had an incredible first year with the Club.
The Ironman Trophy awarded to members on completion of their first Ironman went to Sam Toon and Andrea Trickett for completing their Ironman event in Copenhagen.
The Margaret Hibell Trophy for Endeavour went to Emily Wideman for finishing the London Marathon in an excellent time of 3hrs 30m 50 secs after her first attempt the previous year was thwarted when she became injured just before the marathon.
The Brian Gough Award went to Grania Towle for completing two ultra-distance races 30 miles and 53 miles within four weeks and Ramzi Sidani for completing 18 x 10k laps at the 24-hour event Equinox and also picking up the solo third place.
Club member of the year voted for by the members was this year presented to Sarah Malone the outgoing Publicity Officer for her superb contribution and commitment to the club.
The final award of the evening was the Chairman's prize which this year went to Kevin Saunders, a commendable winner. Kevin one of our longest serving members has been a part of the Club since 1986, and has worked tirelessly in many roles to help make Ivanhoe Runners the club it is today with 197 members. An exceptional runner in his day Kevin clocked PB's of 38:02 for a 10k, 1:22:48 for a half marathon and 3:08:35 for a marathon to name but a few. The room erupted with cheers when Kevin's name was announced as the winner and he received a standing ovation as he walked to the stage.
The evening continued with music and dancing and a great time was had by all.