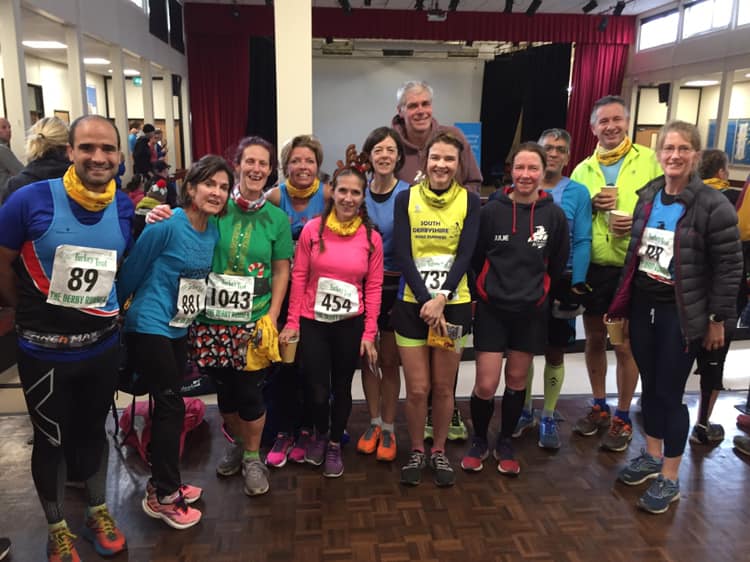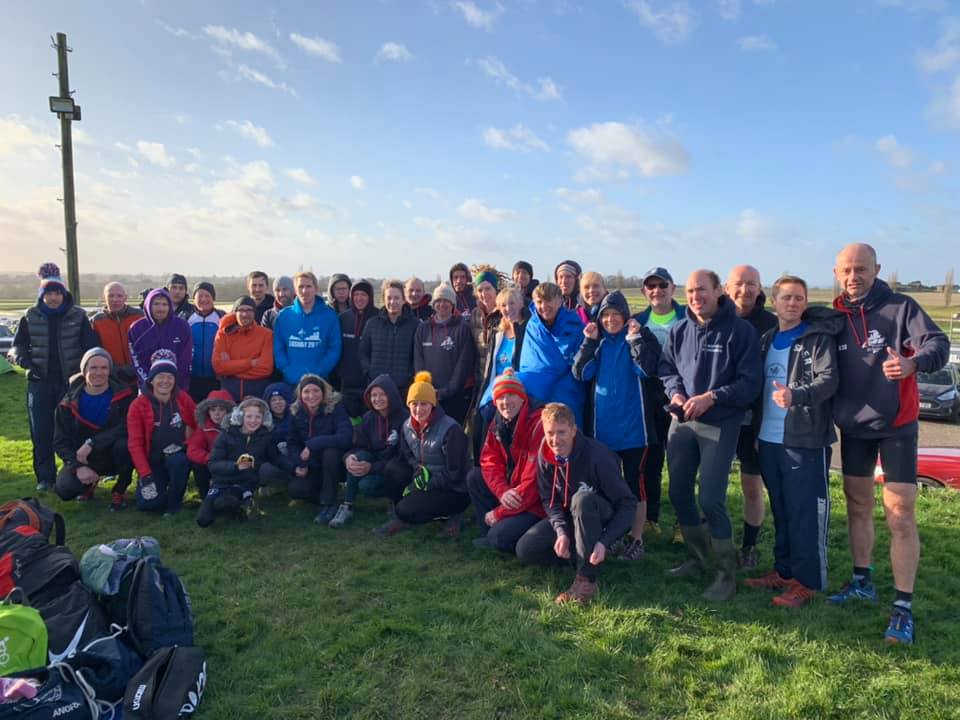 Ivanhoe runners were split between two popular races on Sunday 8th December, with 36 taking on the mud at Mallory Park for the Derby runners cross country and others preferring the road at the Keyworth Turkey Trot half marathon. Strong winds buffeted the runners in both races adding to the challenges ahead.
Abigail Halcarz ran another strong race to lead the team at the Turkey Trot, coming 5th lady overall in an impressive 1:27:41. Andrew Stanley was next to finish in 1:32:36, 10 minutes ahead of Damon Bland clocking 1:42:05.
Sophie Cooper ran a new personal best time of 1:44:33, followed by Julie Taylor in 1:45:51, seconds ahead of Pedro Lima's new PB time of 1:45:54. Sandra Lawless also clocked a new PB of 1:49:25.
Ladies Captain Victoria Smith was the next Ivanhoe over the line in 1:52:01, with Mark Eydman finishing in 1:53:45 and Nancy Bennion clocking 1:55:06. Mukesh Deva battled the winds to cross the line in 2:05:12, ahead of Teresa Talbott, having a change from XC in 2:06:53.
Helen Finn finished next in 2:08:38, and Helen Jefferey ran with Amy Derbyshire to both come in at 2:17:09.
Over at Mallory Park, a new location for the next DRXC League race, this was a two lap route of just over 6 miles, taking in views of the race track and lake, the course being of varied terrain with lots of 'bumps'.
After a mass start, Ramzi Sidani led the way for Ivanhoe coming in 25th overall position in 40:43. Not far behind, Adam Smyth finished 32nd for 41:25, just ahead of Ivanhoe newcomer Alan Ginn in 33rd, time of 41:31.
Men's Captain, Mark Parker clocked 42:50 in 49th place, ahead of Karl Wideman in 43:17. Paul Codd crossed the finish line in 43:29, in front of Alistair Burgwin in 44:01 and Gavin Moore clocking 44:10, making up an impressive set of scores for the mens team.
The remaining men kept the pressure on, led by Matt Brocklehurst (44:15), Gerard Eivors (44:39), Nick Rowles (44:53), Tom Smith (45:52), Phil Stevenson (46:31), Pav Mazur (49:26), James Ogilvie (49:34), Richard Hope (49:50), Colin Hope (51:27), Kev Laz (51:32), Patrick Horn (53:02), Roger Weston (55:03), Bob White (55:30), Martin Yeomans (58:53), Julian Rawlins (60:38), Paul Averillo(61:10) and Keith Baron (62:51).
Emily Wideman had a great run to lead the ladies home in 51:44, with Adrienne Collard making an impressive debut clocking 54:20, ahead of Fiona Betts in 55:09 and Carolyn Osbourne 57:13, all making the scoring team. The rest of the ladies did well with Laura Graves clocking 59:19, Dawn Cross making her debut in 1:03:50) Laura and Jenny Hope both running times of 1:07:08, Trish McPhearson clocking1:10:09 on little training, Sarah Malone in 1:11:04, and Grania Towle bringing the team home in 1:15:02.