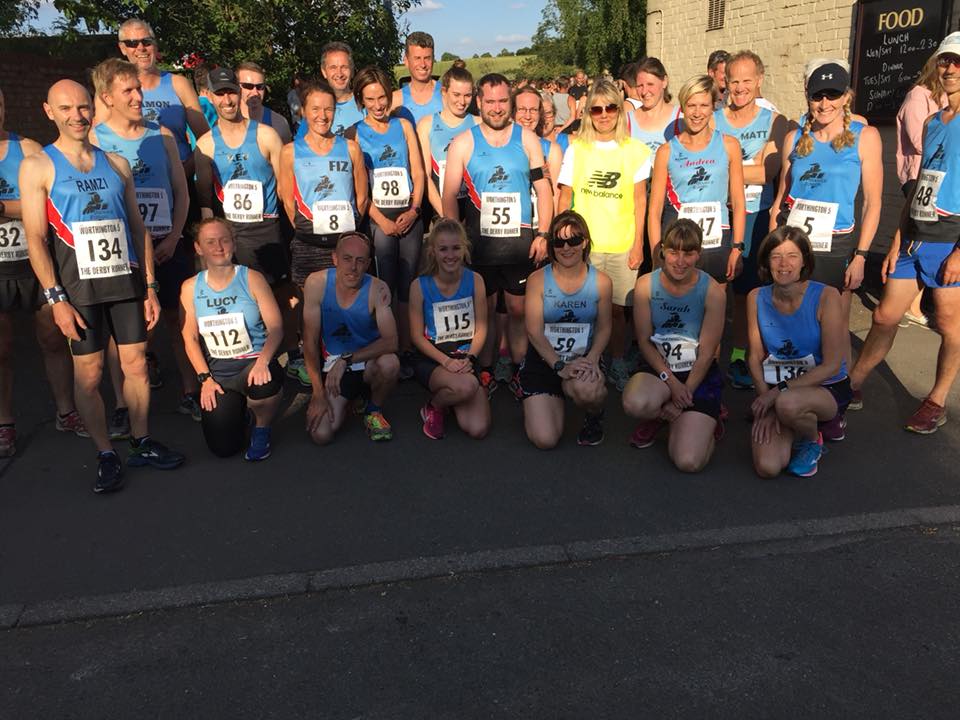 43 runners and several volunteers from Ivanhoe turned out on this warm Tuesday evening to race at the Worthington 5 mile, a BDSL event hosted by ourselves. A flat, fast course out and back along the cloud trail at Worthington there were some impressive performances, putting Ivanhoe in a good position in the League.
In fine form, it was Ramzi Sidani who was first runner home for Ivanhoe, and 8th overall clocking 29:54. Taking 12th, 13th and 14th places were Shaun Coulton, Craig Hinds and Mark Parker with respective times of 30:19, 30:40 and 30:47, resulting in an age category win for Shaun and a new PB for Mark. Alistair Chambers followed this up with 31:05, ahead of Richard Martin in 31:26. Karl Wideman gained a new personal best with his finishing time of 31:41, while men's captain Nick Rowles scored 32:35. Mark Bradford flew round in 34:40, ahead of James Cubitt in 34:57, and Pav Mazure in 35:07.
First female finisher for Ivanhoe and an excellent 5th overall and first VW35 was Emily Wideman, on strong form with a new PB time of 35:30. Battling for position Patrick Horn finished 1 second later (35:31) just ahead of Damon Bland (35:35). Andy Jeyes back from scooping several age category wins in Ireland went on to win the VM70 here, with an impressive 35:55.
Kev Laz came in next with 36:07, then Lucy McDermott just behind in 36:10, earning her 8th lady and 1st in her age category. Knocking almost 2 minutes off his previous 5 mile time Rich Hope finished in 36:25, along with Jordan Cope, crossing the line in 36:29. Sophie Cooper had another fantastic run with a new PB time of 36:45, just in front of Mark Eydman (37:26) and Fiona Betts (37:30).
Women's Captain Victoria Smith crossed the line in 38:10, followed by Matt Joyce in 38:19. Richard Trevelyan continues his improving form with 38:20, a new personal best time. Andrea Trickett then finished in 38:53, ahead of Karen Hartland in 40:09.
Tim Moore, cheered on by his family clocked a pleasing 41:22, while Helen Finn scooped an age category prize with a swift 41:41.
Nancy Bennion ran her first race with the club, as did Chloe Perry. Both had impressive debuts, clocking times 42:45 and 42:53 respectively, helped by pacer Lucy Allsop, in 43:12, followed by Sarah Malone in 43:31. Sally Jeyes was the next age category winner with her time of 45:20, just ahead of Christine Ridley in 45:24. James Hammond ran his debut race with Ivanhoe to clock 46:05. Taking a 5 minute chunk off her previous 5 mile record, Jayne Bradshaw finished in 46:10, along with another big improver, Jessica Southwart, in 47:18, another new PB.
Michael Stephenson was next to finish in 49:03, followed by Grania Towle in 50:42. Marie Miller scored another Personal best time of 52:32, along with running buddy Kim Harris in 52:35. Finally Julie Henfrey came home to 1:02:14, rounding off an enjoyable evening's racing.