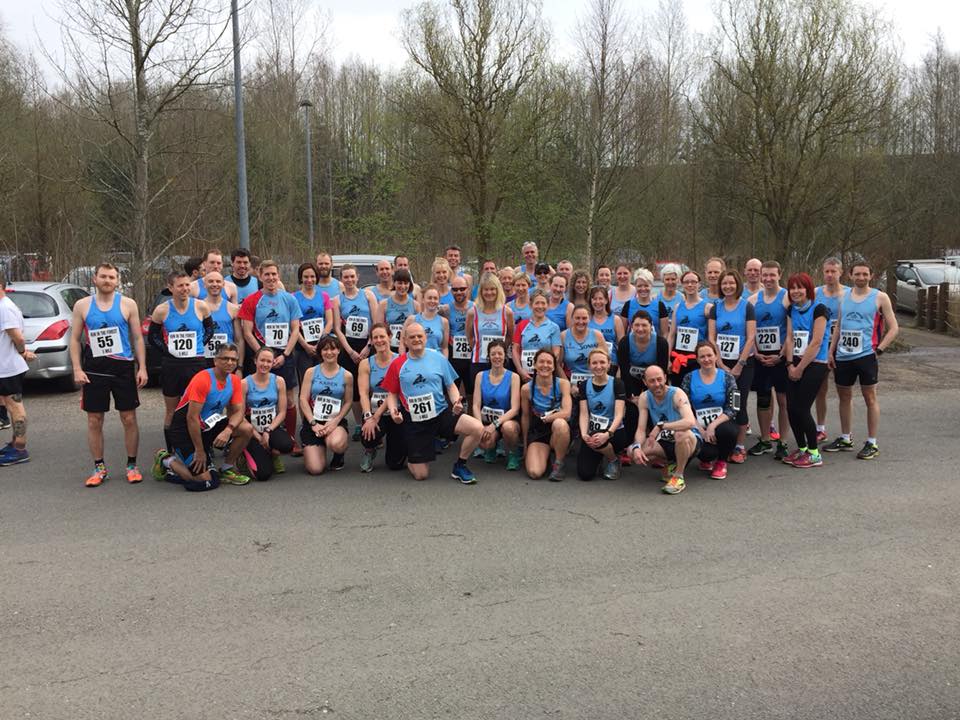 Sunday 15th was the day of the first of the Burton Summer league races, the Run in the Forest 5 miler held at Conkers in Moira. There was a huge turnout of Ivanhoe runners for this popular race, taking in the beautiful trails of donisthorpe woodland park.
First finisher for the club, Ramzi Sidani sped round in 29:50, and in a fast second Craig Hinds in 30:34. Matt Pleass followed in 30:47. Flying in, Alistair Burgwin, Matt Brocklehurst and Nick Rowles scored times of 31:06, 31:12 and 31:38.
In the 32's Ian Bolton, Richard Martin and Louis Barnes clocked times of 32:02, 32:11 and 32:52. Simon Terry followed in 33:09 and a minute later Adam Smyth in 34:04. Mark Bradford was next in 34:29, and Patrick Horn in 34:39. Many of these leading men are training for or have just completed marathons, and are clearly showing no ill effects of running on tired legs.
Winning his age category once again, Andy Jeyes clocks a swift 35:48, followed by Andrew Botterill in 35:54.
First in for the Ivanhoe ladies and an age category first was Lucy McDermott, with an excellent 36:05, with Emily Wideman on her tail in 36:18. Martin Yeomans clocked 36:40, then four speedy ladies, Sophie Cooper(36:56), Fiona Betts (37:01) and Andrea Trickett (37:47), backed up by ladies captain Victoria Smith (38:16).
Matt Joyce ran a swift leg loosener before London next week in 38:28, leading an Ivanhoe train of Chris Finney. (38:32) Chris Osbourne (38:40), Richard Trevelyan (38:49), Robert Briers (38:57) and Rich Hope (38:58).
Karen Hartland clocked a swift pre London 39:02, followed 1 second later by George Hope, then Mukesh Deva in 39:27 all getting sub 40 minutes.
Sarah Terry and Carolyn Osbourne were next home with times of 40:26 and 40:31. Mark Hoult (42:06) then led a steady stream of Ivanhoe runners, Teresa Talbott (42:09) Sarah Malone (42:50) Kev Sanders (42:55) and Judy Mouncer (43:00) paced by Damon Bland (43:01).
Amy Derbyshire scored 44:21, closely followed by Marie Concannon in 44:23 and Christine Ridley in 44:32. Sally Jeyes won her VW65 Category in 45:54, with Mandy Morris coming 4th in hers with 46:33.
Next over the line, Jenny Hope clocks 48:03, then Kim Harris in 51:13 and Chrissy Betteridge in 51:25. Sonia Hoult paced by Lucy Alsopp scored a speedy 52:28, then in 52:39 follows Fiona Speirs. Janet Joyce, Rachael Newham and Jemma Coleman clocked 54:17, 54:21 and 56:16 respectively. Julie Henfrey and Michelle Moore, with times of 1:00:32 and 1:02:53 completed the Ivanhoe team.
Continuing the spring Marathon season this time at the Brighton Marathon weekend, 3 Ivanhoe men completed the Marathon, Alistair Chambers in swift 3:00:06. Andrew Stanley clocked an impressive 3:29:16. Karl Smith unfortunately had to pull out due to illness.
Liam Buckler in his first race for the club found it really tough but happy to have finished in 5:28:02. Sam Toon and Gemma Shaw both ran the 10k, with Sam scoring 1:03:41 and Gemma 55:14 in a new Personal Best time.
Tom Smith and Andrew Jones both ran the Stafford Half, with Smith clocking a speedy 1:34:54 and Jones in a time of 1:38:18.
5 Runners also ran the Derby 10k. First home for Ivanhoe Mark Parker ran a swift 38:16 and a personal best by 28 seconds. Next in, Kev Laz with 45:53, followed by Hannah Knowles in 46:37. Emily Partridge came in at 48:13 and Tor Meadow-Evans ran 52:35 for her first 10k in the blue vest.