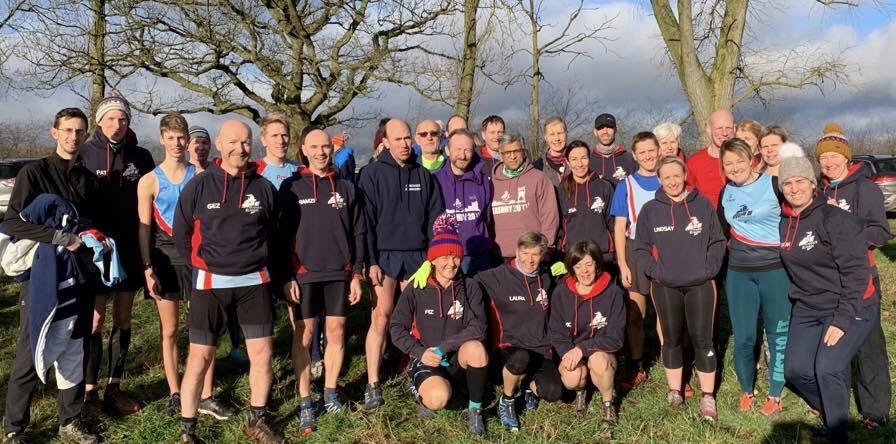 The first Derby Runner Cross Country fixture of the New Year took place at a brand new venue, Martinshaw Woods. There was an impressive turnout of 37 Ivanhoe Runners donning their blue vests the morning after the club's Celebration Evening.
The course that was technically challenging with plenty of twists and turns saw three new members, Catherine Watkins, Sarah Kelly and Rebecca Wilkinson, joining us for the first time for the mud, wind and rain.
A strong performance from Ramzi Sidani led the team home in 19th place with Alan Ginn finishing well in 27th. Men's captain Mark Parker produced another good performance and came in 34th closely followed by Karl Wideman in 36th with Nick Rowles next in 49th. The sixth male home was Gerard Eivors in 72nd, with Oliver Rowles, one of our younger members pushing all the way to finish in 77th. Then came Matt Pleass returning from injury in a very respectable 79th. This completed a strong scoring men's team.
The remainder of the men's team finished in great positions, Tom Smith in 100th position, Richard Hope in 159th, Pav Mazur 162nd, Kev Laz 163rd, Colin Hope 164th, Mark Bradford 179th, Patrick Horn 199th Andrew Bottrill 208th, Mark Hoult 209th, Alan Edwards 220th, Martin Yeomans 233rd, Paul Averillo 262nd, Mukesh Deva 264th and Keith Baron 291st.
In the ladies' race Emily Wideman continuing her good form was again first home in 30th position, closely followed by Ruth Enion who finished strongly in 33rd. A great run from Julie Taylor that saw her finish 3rd lady in 41st position and a very respectable 51st for Ladies Cross Country captain Fiona Betts, which completed the ladies scoring team.
Supporting the ladies' team and giving great performances were Victoria Smith in 69th position, Catherine Watkins 78th, Carolyn Osborne 87th, Laura Graves 99th, Laura Hope 138th, Christine Ridley 149th, Lisa Hall 153rd, Jenny Hope 162nd, Lindsay Tilbury 167th, Sarah Kelly 168th and Rebecca Wilkinson 176th.