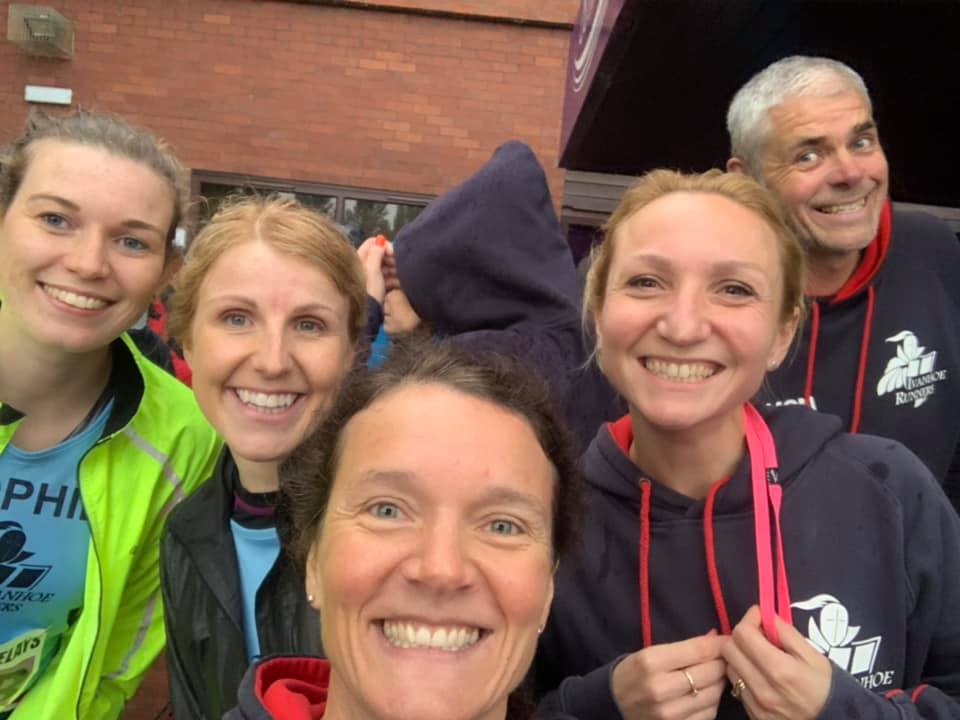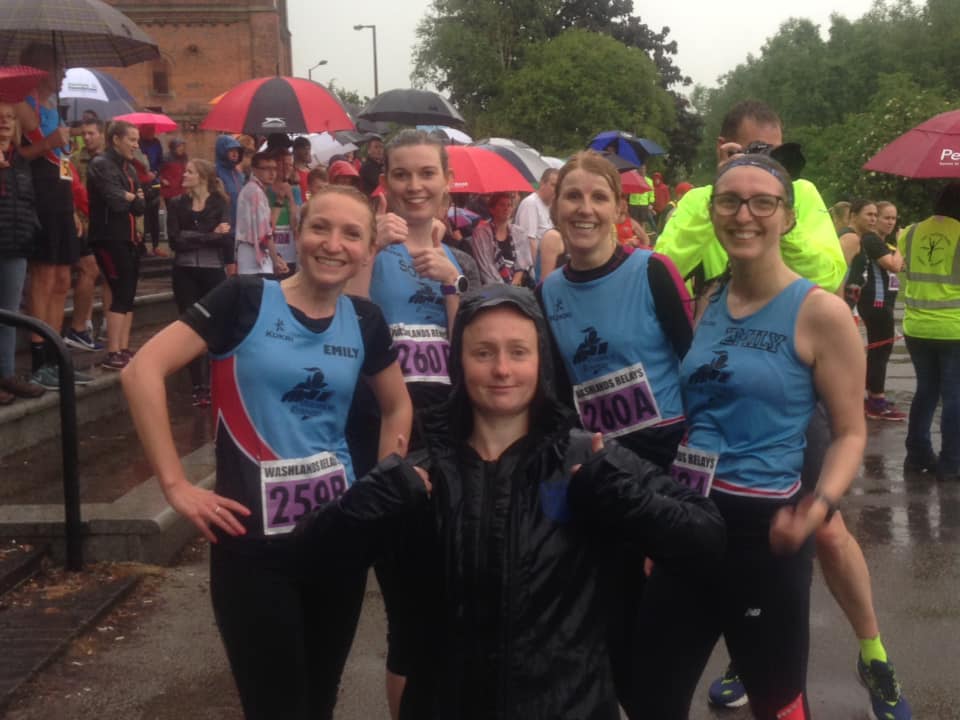 It was an extremely wet washlands relays on Wednesday evening this week as 60 Ivanhoe runners braved the downpour to represent the team at this popular event. Teams are made up of 4 men or 4 mixed, or 3 women, all running legs of 2 miles each. Fast paced and competetive, there were some good efforts from all our runners, despite the puddles. First men's team back for Ivanhoe were Alistair Burgwin who ran the fastest 2 mile on the night at 11:51, along with Mark Parker (12:09), and juniors Oli Rowles and Tom Potter, clocking excelent times of 12:41 and 12:04 respectively. Their total time of 48:45 put the team in 6th place overall.
Second team in for Ivanhoe and coming first in the vet male category were Shaun Coulton, Craig Hinds, Ramzi Sidani and Karl Wideman, running a team total of 50:01.
Third team home were Nick Rowles, Chris Thurburn, Andrew Stanley and Paul Woods, in a collective time of 52:14. Pav Mazur, Patrick Horn, Damon Bland and Mark Bradford made up the next team, clocking 56:27 between them.
Clocking 58:03, were James Cox, Neil Adams, Andrew Botrill and Chris Osbourne, ahead of the final men's team, clocking 1:00:20 collectively were Mukesh Deva, Rich Hope, Richard Bebbington and Time Moore.
There were 2 mixed teams running in blue vests: Matt Joyce, Laura Hope, Ilze Reinke and Paul Averillo ran a total 1:08:50, and Robert Briers, Kay Gosling, Nick Rowles and Martin Yeomans clcoked 1:09:10.
Ivanhoe first ladies team of Emily Wideman, Emily Partridge and debut runner Abigail Halcarz did a fantastic job, coming in second overall, in a swift 42:13. The next Ladies team were not far behind, finishing in fifth place and were Ruth Enion, Sophie Cooper and Fiona Betts. Third ladies team back in 47:31 were Julie Taylor, Andrea Trickett and Nancy Bennion.
Several more Ladies teams followed , including Lucy Allsop, Gemma Shaw and Tor Meadow-Evans (51:20), Lisa Hall, Carolyn Osbourne and Jessica Southwart (53:30), Amy Derbyshire, Helen Brandon and Sue Tait (54:48), Rachel Thompson, Mindy Ashton and Sonia Hoult (55:36), Helen Finn, Marie Miller and Sandra Lawless (57:10), Julie Henfrey, Helen Jeffrey and Jenny hope (59:04) and Michelle Moore, Lynne Munrow and Christine Ridley (1:00:37).
Four runners attended the Rothley 10k held on the night before, and was another rain-soaked event, albeit a lovely route. Richard Martin finished the race in 39:23 in position 18. Julie Taylor clcoked 49:25, and Meghan Ratcliffe finished in 1:03:15 in her first run for the club. Jayne Bradshaw, finished in 1:13:26.