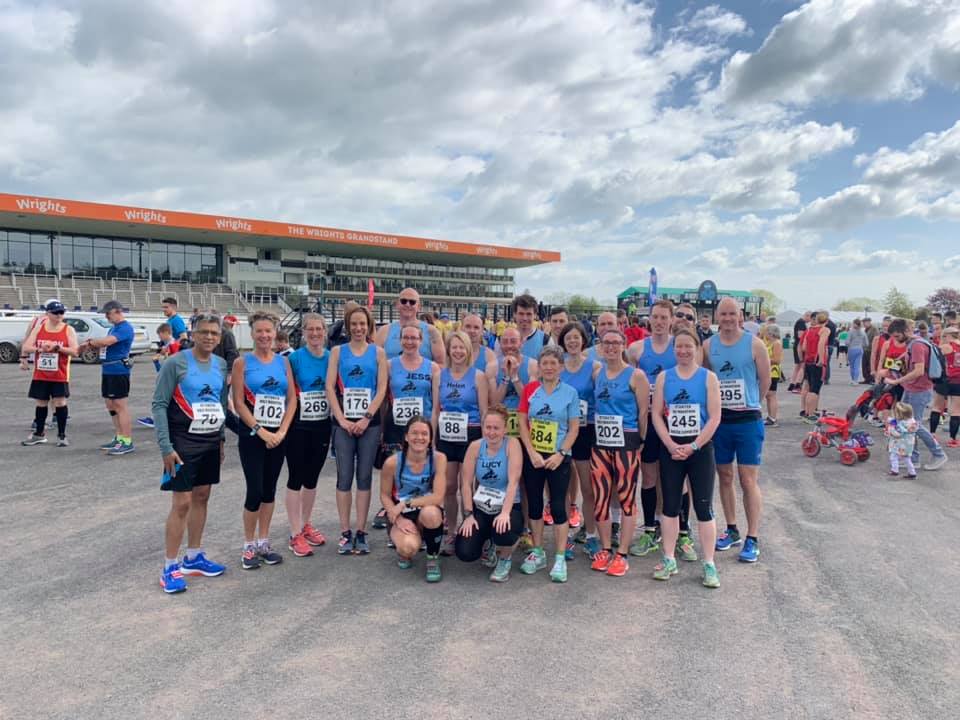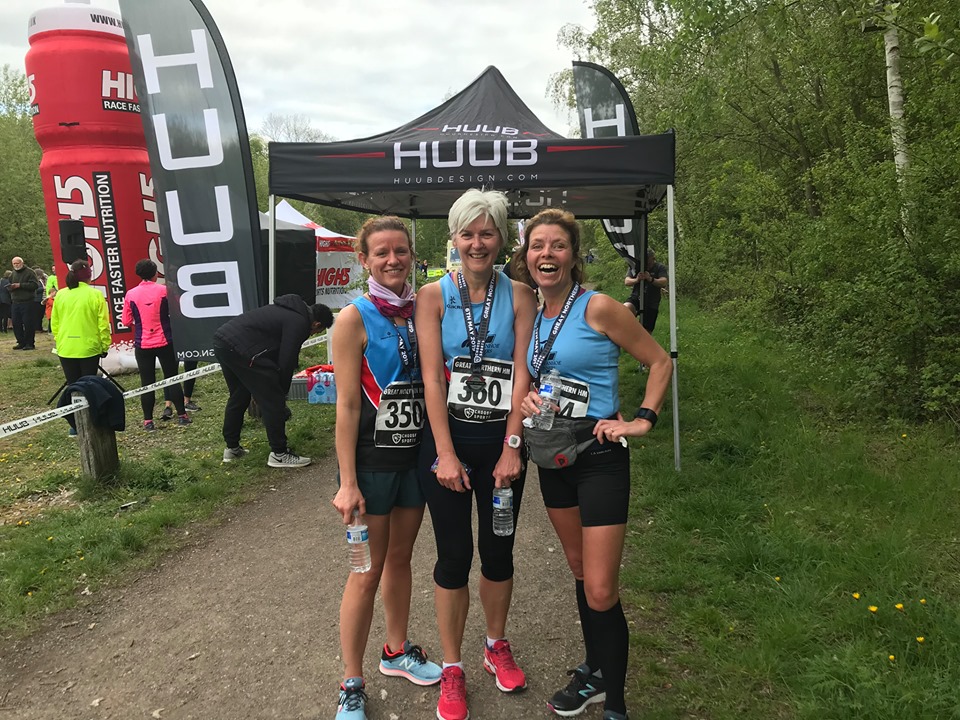 The BDSL Uttoxeter half marathon marked a return to league racing this weekend. Despite being a notoriously hilly and difficult course, it was a successful event for the Ivanhoe team, with many new personal best times reflecting dedicated training.
First home for Ivanhoe runners was Shaun Coulton, coming in 7th place overall and first VM50, in a swift 1:22:09. Alistair Burgwin continued to improve on his times with a 10 second PB, at 1:22:49, while Craig Hinds came in third for the club with 1:25:08. Mark Parker crossed the line next in 1:27:11, while Adam Hoult was the 5th runner in the sky blue vest to come sub 1:30, clocking 1:29:12.
Louis Barnes crossed the line almost 1 minute faster than his previous best time, in 1:30:50, ahead of Gerard Eivors (1:32:20) and Andrew Stanley (1:34:49).
Lucy McDermott had a fabulous run to come 6th female overall and win her age category with a new PB time of 1:37:41. Patrick Horn was next over the line with 1:38:15, followed by Kev Laz, knocking a significant 6 minutes off his PB, in 1:39:33. Second lady for Ivanhoe, Emily Partridge continues her good pacing with a new PB, 1:41:18, ahead of Julie Taylor (1:47:39) and Fiona Betts (1:48:02).
There then followed a steady stream of runners, Mukesh Deva (1:51:44), Martin Yeomans (1:52:22), Mark Hoult (1:53:40), Nancy Bennion (1:53:58), Victoria Smith (1:54:05), and Laura Graves (1:55:29) all finishing in under 2 hours. Lucy Allsop stopped the clock in 2:00:37, ahead of Jez Millington-Pipe (2:17:34), Helen Finn (2:18:59) and Jessica Southwart (2:24:33).
The Great Northern Half marathon and 10k was held the next day, on bank holiday Monday. Starting at Mickleover, Derbyshire and running along country lanes and the disused great northern railway line, Paul Woods ran the 10k option, crossing the line in 39:40. Three Ivanhoe ladies ran the half marathon, led by Sandra Lawless in 1:57:26, followed by Suzy Parish in 2:00:09, and Christine Ridley in 2:06:38.
Also on bank holiday Monday, Ange Bebbington took on the Woodhouse Mayday challenge, a relaxed 13.5 mile course around the Charnwood countryside, finishing in 2:49:46.