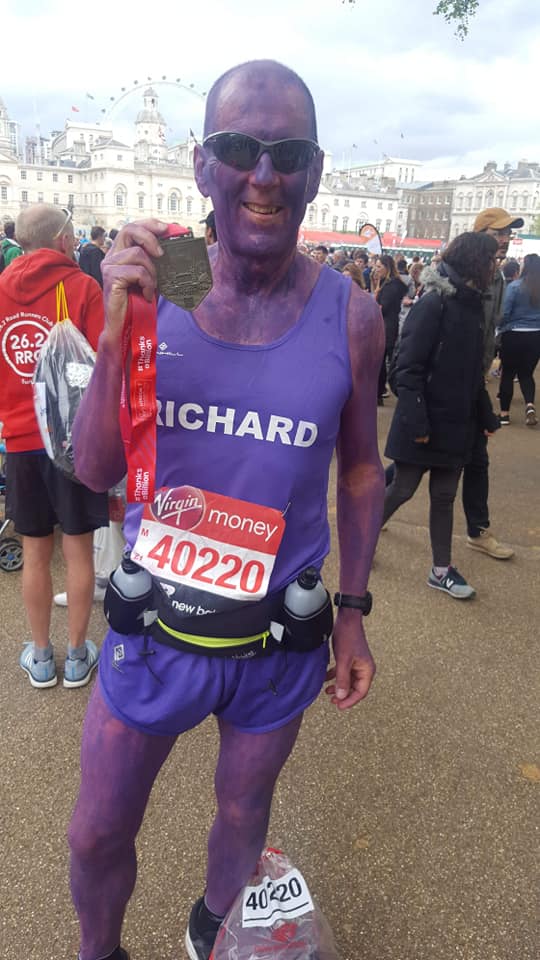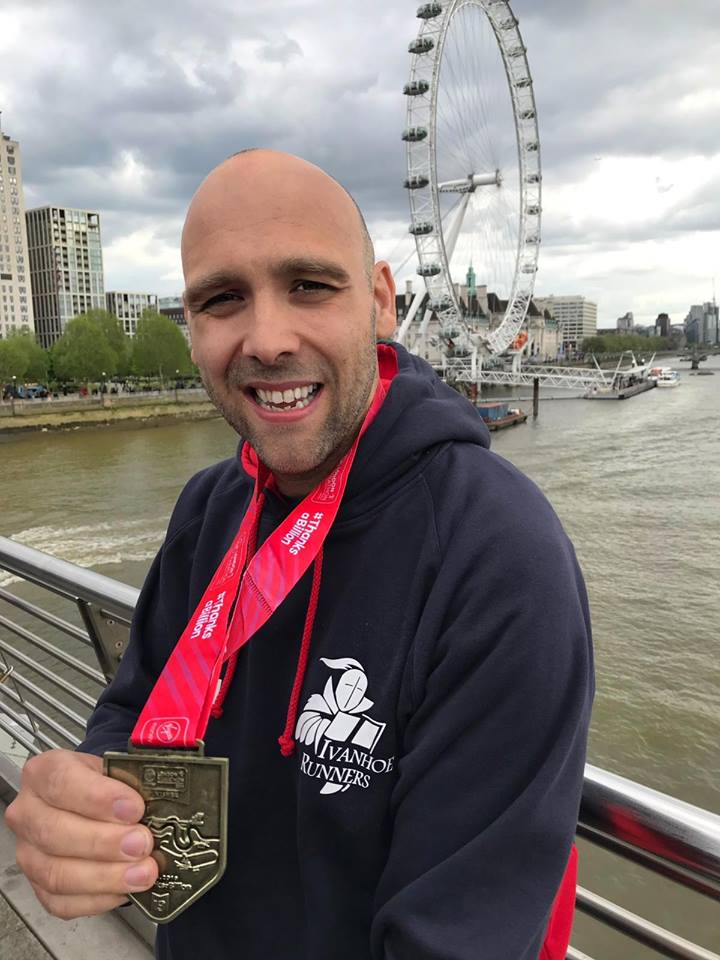 At the Virgin Money London marathon this weekend, and an impressive turnout of 17 Ivanhoe runners took to the streets of the capital.
It was another memorable event, for a variety of reasons for our club runners, and there were some great performances all round.
Quickest time of the day was from Alistair Chambers, finishing in 3:01:09, despite setting off too fast. Second fastest of the day, with a 3:23 finish was George Loveday, with third Ivanhoe finisher going to Richard Bebbington, painted purple to raise money for the charity wishes for kids, clocking 3:24:40, a huge improvement knocking 15 and a half minutes off his PB time.
Another significant PB was from Emily Wideman, who after having to pull out of London last year had a fantastic race to finish in 3:30:50. Ruth Enion, spurred on by the great support clocked 3:31:34, and Fiona Betts ran a PB time of 3:46:42, just 2 weeks after Boston Marathon.
Karen Hartland ran the Marathon with her sister in 3:51:19, ahead of Rachel Thompson running an impressive debut marathon in 4:13:20. Lindsay Tilbury fought her way through blisters to cross the line in 4:20:09, and Sarah Malone finished in 4:45:44.
Tim Moore started well but picked up an injury half way round, but went on to finish in 4:48:18. Liam Buckler ran London 28 minutes faster than Brighton marathon last year, clocking 5:00:13. Sisters Sarah Kelly and Claire Broughton ran together to finish in 5:07:39 and 5:07:40 respectively. Jayne Bradshaw completed her first marathon, running for the Matt Hampson foundation in 5:12:28. Marie Miller also had a great first marathon clocking 5:44:46. John Lewis ran in memory of club member Kev Wright, who was awarded a ballot place after he died, and after working hard in training he had a good run to clock 5:45:33 on the day.