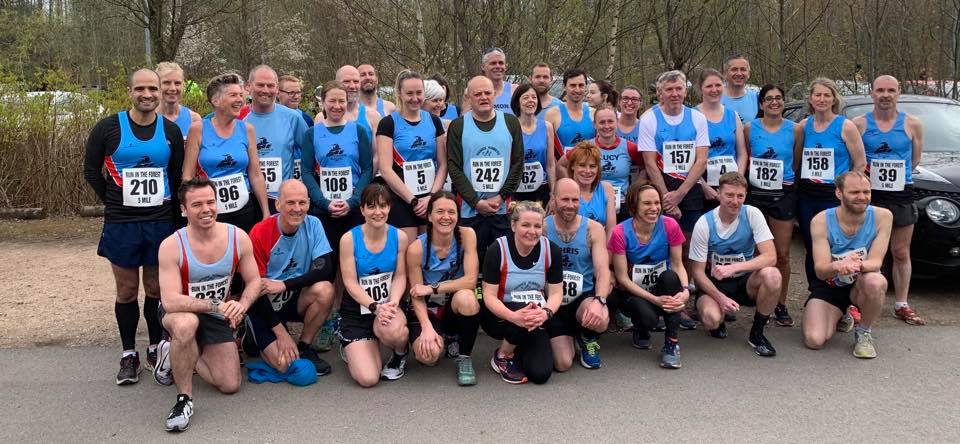 The first race in the Burton district summer league, the run in the forest 5 was attended by 39 Ivanhoe runners, ensuring a strong start to the league.
Shaun Coulton was first back in the blue vest at the run in the forest 5, coming 8th overall and 1st in his age category, with a swift 30:07. Mark Parker was next to finish in a solid 30:42, just ahead of Matt Brocklehurst in 30:50. Paul Codd, in his debut race for the club, clocked a promising 32:23, ahead of team mates Louis Barnes (32:54) and Simon Terry (34:18).
Emily Partridge had another fantastic race to finish first Ivanhoe lady in 35:36, a new personal best time. Damon Bland crossed the line in 35:39, then Lucy McDermott scored another PB and age category win with her time of 35:54. In 36:04, James Cox crossed the finish line just ahead of Chris Finney's 36:07.
Andrew Botrill was next Ivanhoe finisher in 36:23, followed by Mark Eydman (36:39), Roger Western (37:50) and Richard Hope (38:00). Chris Osborne clocked a new PB with his 38:04 time, with Martin Yeomans close behind in 38:16. Robert Briers finished in 39:02, then Pedro Lima in 39:08 in his debut 5 miler for the club. Victoria Smith crossed the line in 39:29 with Karen Hartland close behind in 39:32. Nancy Bennion had an impressive run to finish in 40:03, a PB by 2.42 minutes.
Laura Graves won her age category in 40:11, a second ahead of Julie Taylor at 40:12. Fiona Betts had a steady run ahead of Boston Marathon in a weeks time and finished in 40:44.
Amanda Bradbury stopped the clock in 41:47, followed by Carolyn Osborne (42.30) and Richard Bebbington (42:32). Newcomer Mindy Ashton clocked a swift 43:03 in her first race in the blue vest, seconds ahead of Peter Graves in 43:08. Laura Hope finished with a new Pb in 43:50, Gemma Shaw finished in 44:12, and Christine Ridley 44:56.
Kev Sanders made a rare race appearance to clock 45:55, ahead of Lucy Allsop in 46:47. Paul Averillo was next to finish in 47:17, then Lynne Munro in 49:44. Ilze Reinke continuing a steady return to fitness clocked 52:02, then Julie Henfrey completed the team in 1:03:07.